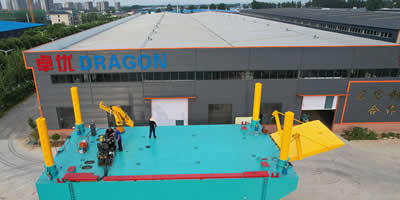 Weifang Dragon Machinery Technology Co., Ltd. is dedicated to the design, development and manufacturing of aquatic cleaning and dredging equipment. As a professional manufacturer and service provider, we have worked exclusively with customers for more than 20 different large scale projects, backed by extensive design and manufacturing experience. Customers come to us for custom designs for aquatic cleaning and dredging equipment, all of which feature an outstanding performance, simple operation and easy adaptation to various environments. Our equipment has been sold to customers in Southeast Asia, central Asia, South Asia, Africa, the Middle East and other countries and regions such as the Congo, Bangladesh, Nicaragua, and Nigeria. Not only that, but we are consistently innovating and introducing new technology and talent, which has allowed us to build an excellent cooperative relationship with the Ocean University of China and other domestic and internationally known professional institutions and research institutions so that we can develop new, highly technical and added value aquatic cleaning tools and products.
DRAGON MACHINERY has obtained the business of an increasing number of customers, due to their trust and approval of our consistent innovations, flexible custom services and outstanding delivery services. At DRAGON, we believe we can build a better future by working together with each of our customers to supply the right equipment to keep the planet's bodies of water clean and beautiful.
Design capacity
DRAGON employs a team that is known for their exceptional mechanical design abilities, which allows them to meet all customer requirements for equipment dimensions and functions. We strictly adhere to the research and development objectives of independent innovation, with an annual R&D investment of 8% of total sales. These designs and developments are aided by the use of CAD, Solidworks, UGNX and other computer aided design systems, Ansys, matlab simulations and analysis software as well as VCC, EasyBuoder8000 programing software. The combination of the systems and software improves and perfects each detail during the design, development and manufacturing process to ensure our design schedule remains precise and reliable. We also offer one-stop service for scientific research, technical service, marketing management, manufacturing, and the supply of high quality equipment to global clients, while still enhancing our competitive abilities on the market around the world.
Production capacity
Our facility is outfitted with a complete line of production equipment to aid us in the timely manufacturing of all aquatic dredging and cleaning equipment, including a CNC plasma cutting machine, welding robot, CNC lathes, machining centers, milling machines, grinding machines, punching machine, spraying line and more. This equipment automatically completes the finish procedures of machining, sheet welding, surface treatment, spraying and more to ensure a timely production schedule and delivery.
Quality Control
DRAGON team aims to contribute to society by providing safe, reliable and high-quality products and services that satisfy our customers. In this endeavor, we adhere to the company management principles, which are based on respect for people, observe relevant laws and regulations, and focus on our customers first and foremost. To maintain quality systems aimed at achieving 100% quality, we require supplier's test report for regular receiving inspection and carry out stringent quality inspection at all production processes. During the life cycle of the products, we engage in quality assurance from the customers' point of view and collect, analyze, appropriately disclose information with the aim of preventing quality incidents
Test run before delivery
In order to ensure stable operation and normal using of our equipment, we will perform test running to test the coordination of components before delivery. Therefore, we can solve detected problems timely. Besides, our suppliers of important component are also required to perform experiment and provide testing report before delivery especially for hydraulic system, dredge pump, engine and other critical components.